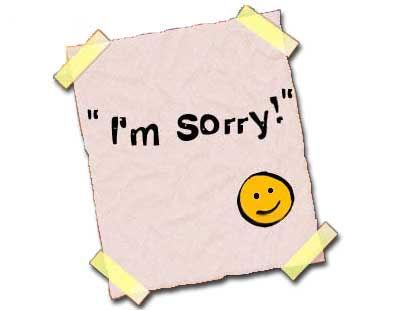 It can be hard to apologize to someone, especially after a huge fight.  If you've had a falling out and you're ready to apologize, you need to put some thought into it.  A bad apology can actually be worse than no apology at all, and you do not want to make the situation worse!  Sometimes, just saying you're sorry isn't enough to mend broken bridges.  When words aren't enough, there are several things you can do.
If words are not enough, you need actions.  Saying "I'm sorry" is the first step, of course, but then presenting the recipient with a bouquet of flowers or a small wrapped gift (chocolate, maybe, or something personal) will really show how sincere you are.  These gifts don't have to be expensive or elaborate, but they need to speak to the recipient.  If you know she hates roses, don't give her roses, no matter how romantic they may seem.  The same goes with chocolates if you know she doesn't like them.
Another action you can take is to set up an entire evening of apologies.  Show up with your apology and flowers, then move on to dinner.  Finally, end your apology with a dessert for two and another heartfelt "I'm sorry."  If that type of evening doesn't smooth over any damage you've done, nothing will.  Of course, you may want to slightly restructure the evening if you're apologizing to a family member or a friend and not your wife or girlfriend.  Still, flowers, a small gift, and dinner can go a long way to repairing any relationship.
When words are not enough, follow them up with actions.  However, you must remember to always, always be sincere.  If your apology is not heart-felt, it will fall flat and you'll end up in a worse position then you started in.
Share This: